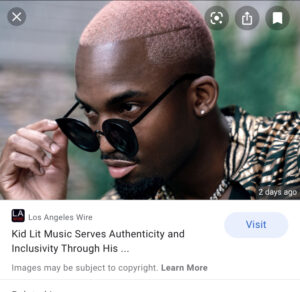 Kid Lit Music has yet another write up in the LA Wire. Check it out here: CLICK HERE
Here is an excerpt:
"Kid Lit Music undoubtedly grew up with a passion and one profound dream: "To produce music that transcends gender, race, class, and nationality." While other artists have a hard time establishing their identities in the industry, he has conquered performances across the country by being unapologetically himself, conquering the stage with authenticity and original sound.
Kid Lit Music has dubbed himself as the electrosoul pioneer who captivates audiences with a fusion of dance, hip-hop, electronic, and neo soul sounds. The artist has spent years experimenting with melodies and lyrics, maximizing his talents to discover his unique sound. Today, he is recognized as a true visionary and a force to be reckoned with among the music business's emerging names.
Kid Lit Music grew up in Brooklyn, New York. In their family, education was given the utmost importance. So he worked hard to attend Vanderbilt University in Nashville, Tennessee. While pursuing his academics, the artist was simultaneously exploring his musical pursuits in the famed music city. He found many wonderful opportunities, and the artist took them wholeheartedly."